BLOXEED: Differences across versions

Table of contents
Boards
Japan version and worldwide version of Bloxeed use different boards.
Japan version is running on System 18 hardware (released in 1989). It was developed as the succeeding model of System 16 (1986) on which Tetris and other notable games were developed. System 18 added some custom chips to improve the expression, and it adhered to the JAMMA standard unlike previous systems by Sega.
The worldwide version of Bloxeed was developed on System C (1989), hardware with a similar architecture to the Mega Drive console with a cheaper production cost. Columns and Columns II were developed on System C too, but this was also used by Atlus's "Print Club" photo booth, or used for the monitors of kiddy rides and popcorn vending machines.
SEGA AGES Tetris Collection, a PlayStation 2 port of Bloxeed implements the System 16 version as same as on Tetris, as the special appendix.
Noticeable differences
Japan version (System 18) and Worldwide version (System C) have the following differences:
The way to show the title screen: On System 18 the "Bloxeed" letters dynamically whirl while on System C it's a plain fade-in.
The table of power blocks: On System 18 the screen rises from the bottom while on System C there is no animation. On System C, the coloring of the screen is different from System 18.
The ranking (HOT SCORE) screen: On System 18 the record is sliding from right to left one by one while on System C there is no animation.
The background color of power blocks: It's gray on System 18 and green on System C.
The color of "1P" and "2P", and "rank-in" display on the game over screen: White on System 18 and pink on System C.
The color of score value when all clear is achieved: Red on System 18 and pink on System C.
Blackouts when background transitioning: On System 18 no blackout happens, but a brief blackout can be seen on System C (Blackouts are also noticeable whenever you reach Level 18+2n).
The tone of some BGMs/SFXs: System C has a lower tone of some BGMs/SFXs than those of System 18, for example, Danger BGM, Versus BGM, coin deposit SFX, the fanfare when you activate power blocks, etc.
Background images: see Tab. 1.
Exclusive to System C, whenever you activate each power block for the first time in a game, the game shows the explanation of the activated power blocks (except for 4 Lines). (See Tab. 2 for the description)
Message on achieving all clear with Satellite: On System 18, it's "GOOD DESUNE !" (a line break between "GOOD" and "DESUNE !") while it's "GOOD !!!" on System C (with text color other than bonus point is pink).
American version of System C board has only one button compared to System 18's three buttons. This means no inverted auto-fire can be installed in American System C.
Tab. 1: Background images
Level
System 18
System C
0
sunset
sunset
1
2
3
earth*1
4
5
6
climbing animal
7
earth*1
8
9
galaxy vortex
10
desert
11
12
volcano
waterfall
13
14
15
16-
volcano
Tab. 2: Power block descriptions
(incl. line breaks)
PB
Description
16
THIS WEIGHT
ELIMINATES 3
VERTICAL ROWS
OF BLOCKS.
S
PUSH
THE BUTTON
TO SHOOT AT
THE BLOCKS.
B
EXPLODES AND
DESTROYS
THE BLOCKS.
F
PUSH
THE BUTTON
TO DROP
THE BLOCKS
IN PLACE.
Tab. 3 Demo scenes scripts (incl. line breaks)
System 18
System C
遊び方
HOW TO PLAY
時間によって、
ブロックが下から押し上げられます。
WHEN A LIMITED PERIOD OF
TIME ELAPSES,
BLOCKS MOVE UP ONE ROW.
パワーブロックのラインを消して…
COMPLETE THE ROW THAT
CONTAINS THE
"POWER BLOCK", AND...
ピンチを切り抜けてください!!
YOU CAN GET OUT OF
TROUBLE.
2人対戦でも1CREDIT!!

(No counterpart text which reads "You can play VS mode with only 1 credit!!")
対戦モード
VS. MODE
2ライン以上
同時に消して
MAKE 2 ROWS
OR MORE AT
A TIME, AND...
相手にラインを
送れ!!
SEND THEM
TO YOUR
OPPONENT.
Tab. 4: Other scripts (incl. line breaks)
System 18
System C
Select Game Type Screen
(In System C, the numbers of credit(s) to play each mode are shown above them -- modifiable by dip switches)
通常
モード
ORDINARY
MODE
2人
対戦
モード
VS.
MODE
Continue Screen
コンティニュー?
CONTINUE?
コンティニューすれば
同じ順でブロックが
おちてきます。
IF CONTINUED,
BLOCKS FALL
IN SAME ORDER.
Dip switches for the Japan (System 18) version
Dip switches of System 18 version work as written in the following table (a JPG file). Bold letters mean the factory settings (everything is set to OFF). The number 1-4 switches of SW1 correspond to the first coin chute. The number 5-8 switches of SW1 correspond to the second coin chute. The English explanation of SW2 is available from the Arcade Restoration Workshop website.
SW2-1: Allowing VS Mode / ON = Not available, OFF = Available.
SW2-2: Demo sound / ON = Turned on, OFF = Turned off.
SW2-3, 2-4: Required lines to increase level / SW2-4 is ON = 2 lines, SW2-3 and SW2-4 are OFF = 3 lines, SW2-3 is ON and SW2-4 is OFF = 4 lines.
SW2-5, 2-6: Difficulty / SW2-5 is ON and SW2-6 is OFF = Easy, SW2-5 and SW2-6 are OFF = Normal, SW2-5 is OFF and SW2-6 is ON = Hard, SW2-5 and SW2-6 are ON = Hardest.
SW2-7: Unused switch
SW2-8: High speed mode (gravity hits 2G at Level 50) / ON = Disabled, OFF = Enabled.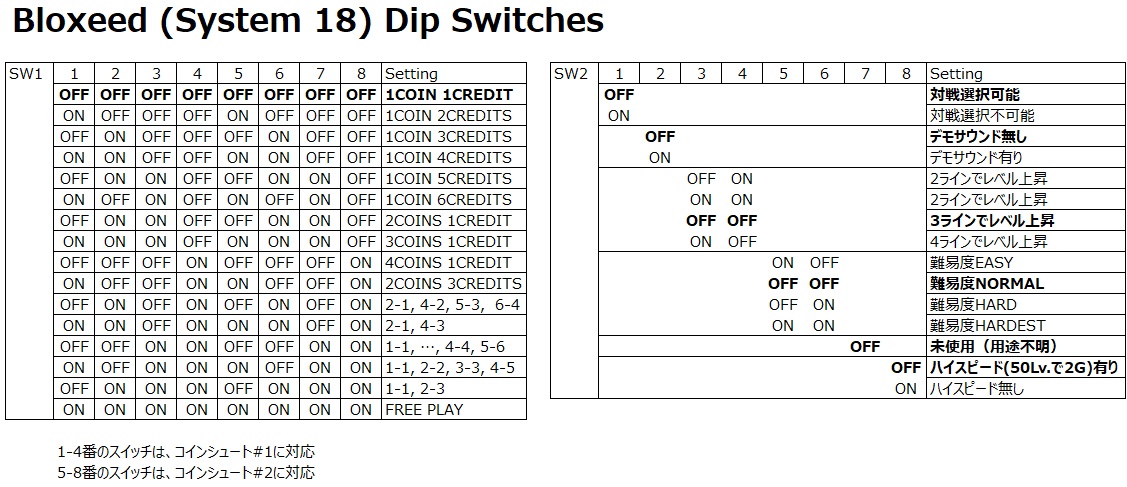 Service mode for the Japan (System 18) version
When you access the service mode of Bloxeed, the following screen shows up and choose menu available. Choose a mode by pressing the start button for player 1 and confirm with the service button. You can confirm your choice or exit the menu by pressing the service button.
INPUT TEST: Shows which button and/or joystick inputs are made currently and shows the current status of dip switches.
SOUND TEST: Plays SFX and BGM. The Player 1 start button plays the next track.
CRT TEST: Shows the seven color bars.
MEMORY TEST: Diagnoses the ROMs/RAMs after waiting several seconds.
BACK UP RAM CLEAR: If choose "YES", all records in the bookkeeping are reset to zero, the randomizer seeds are initialized, and then, immediately returns to the title screen.
BOOKKEEPING: Shows the statistics of the credits deposited and played, and the game statistics.

COIN CHUTE 1/2, COIN CREDITS: Numbers of credits registered by depositing coins in each chute. Coin credits is the sum of credits from both chutes.
SERVICE CREDITS: Credits used during the free play mode.
TOTAL CREDITS: The sum of coin and service credits.
NUMBER OF GAMES: The number of games actually played in the machine.
TOTAL TIME: The total time of activating the machine.
GAME TIME: This only counts in-game time.
LONGEST TIME: The elapsed time of the longest game ever played in the machine. (A game begins when you confirm the game mode and ends when the game over animation starts.)
AVERAGE TIME: The avarage of elapsed time of a game.
LAST GAME TIME: The elapsed time of the last game played in the machine.
TIME REPORT: Shows the aggregated numbers of games by durations. Starting from 0-2 minutes, 2-3 minutes, 3-4 minutes, ... 9-10 minutes and 10 minutes or longer games are separately counted.
SCORE REPORT: Shows the average, the maximum, the minimum score recorded in the machine. The score cap is 999,999.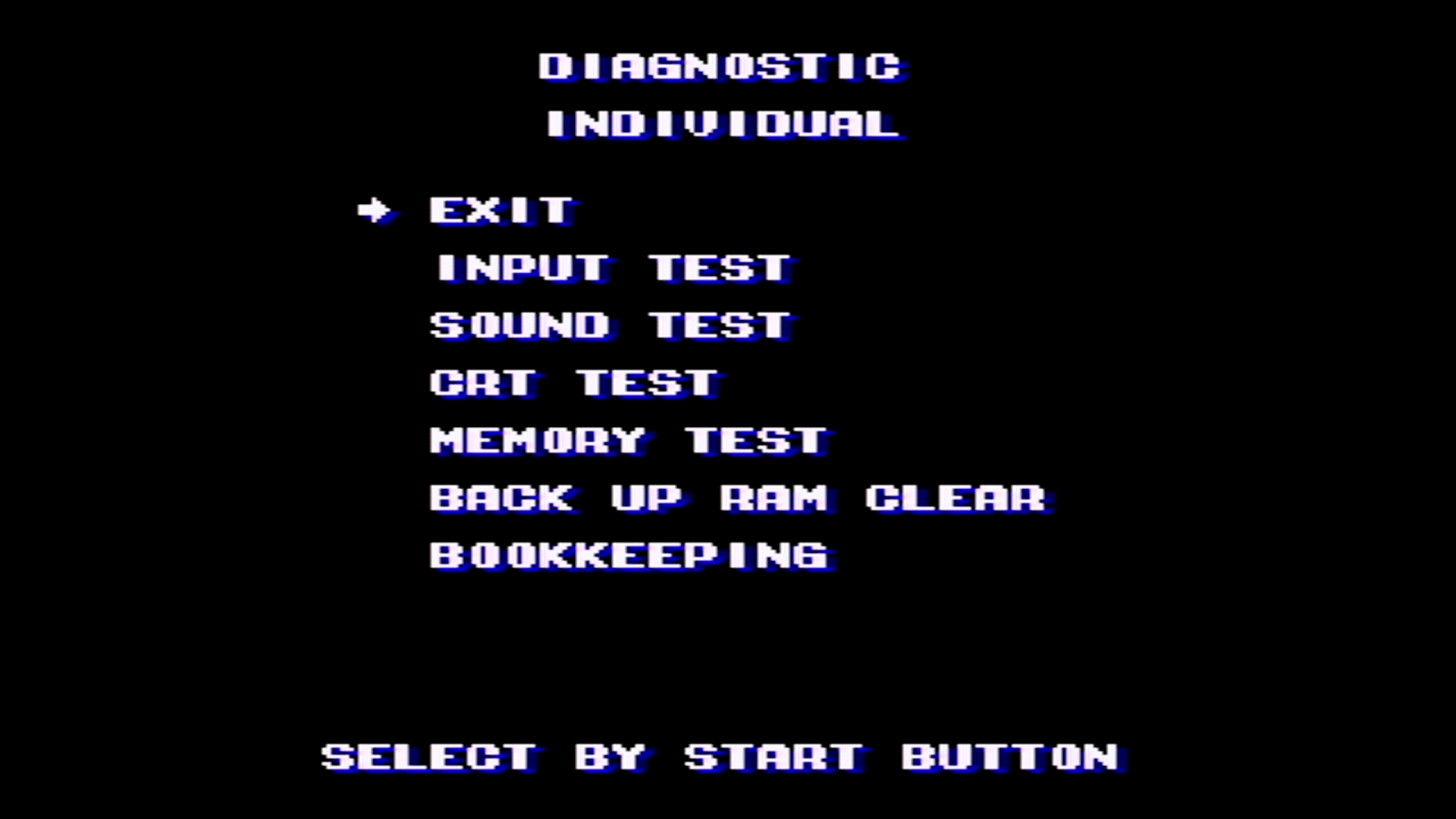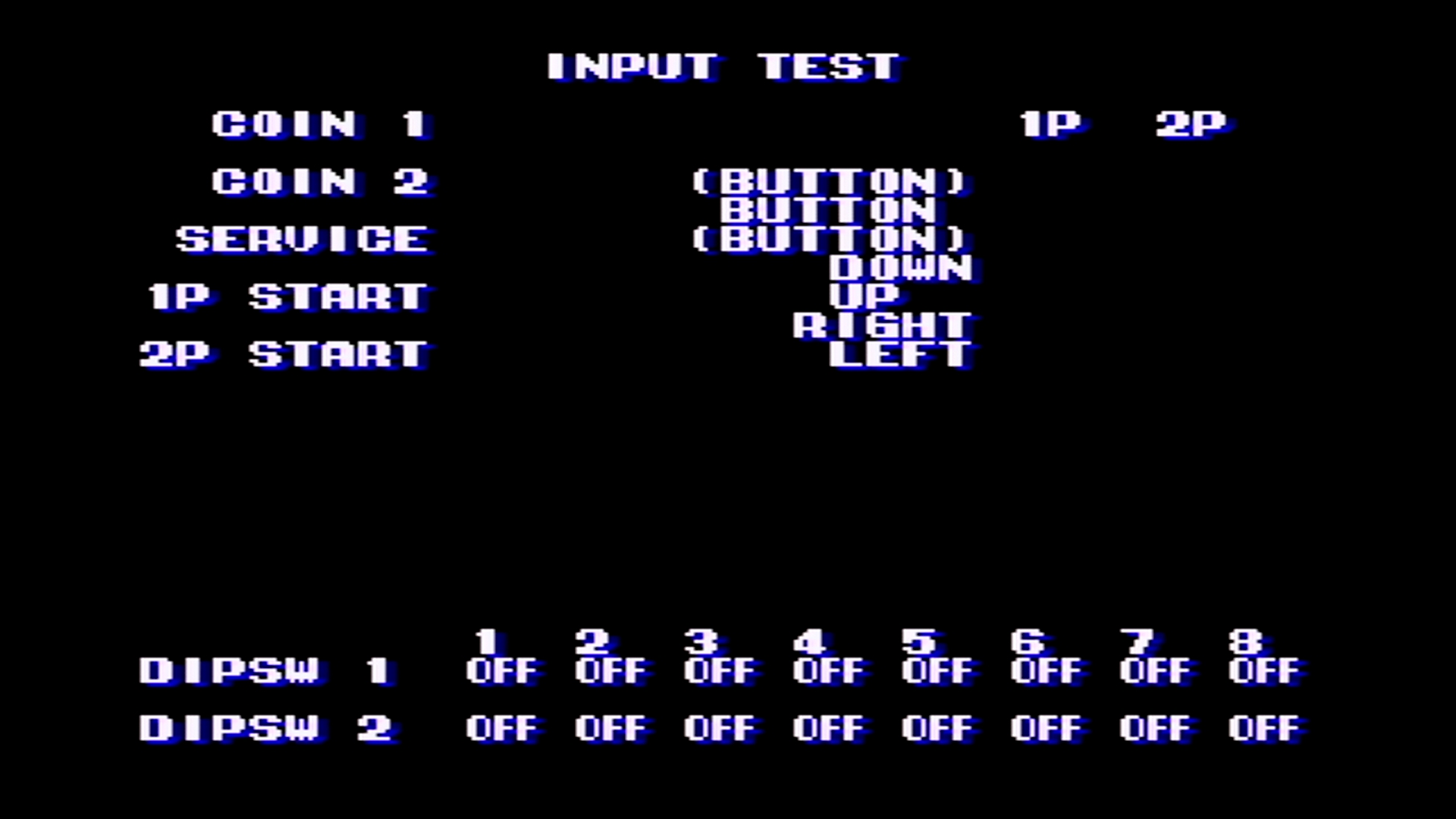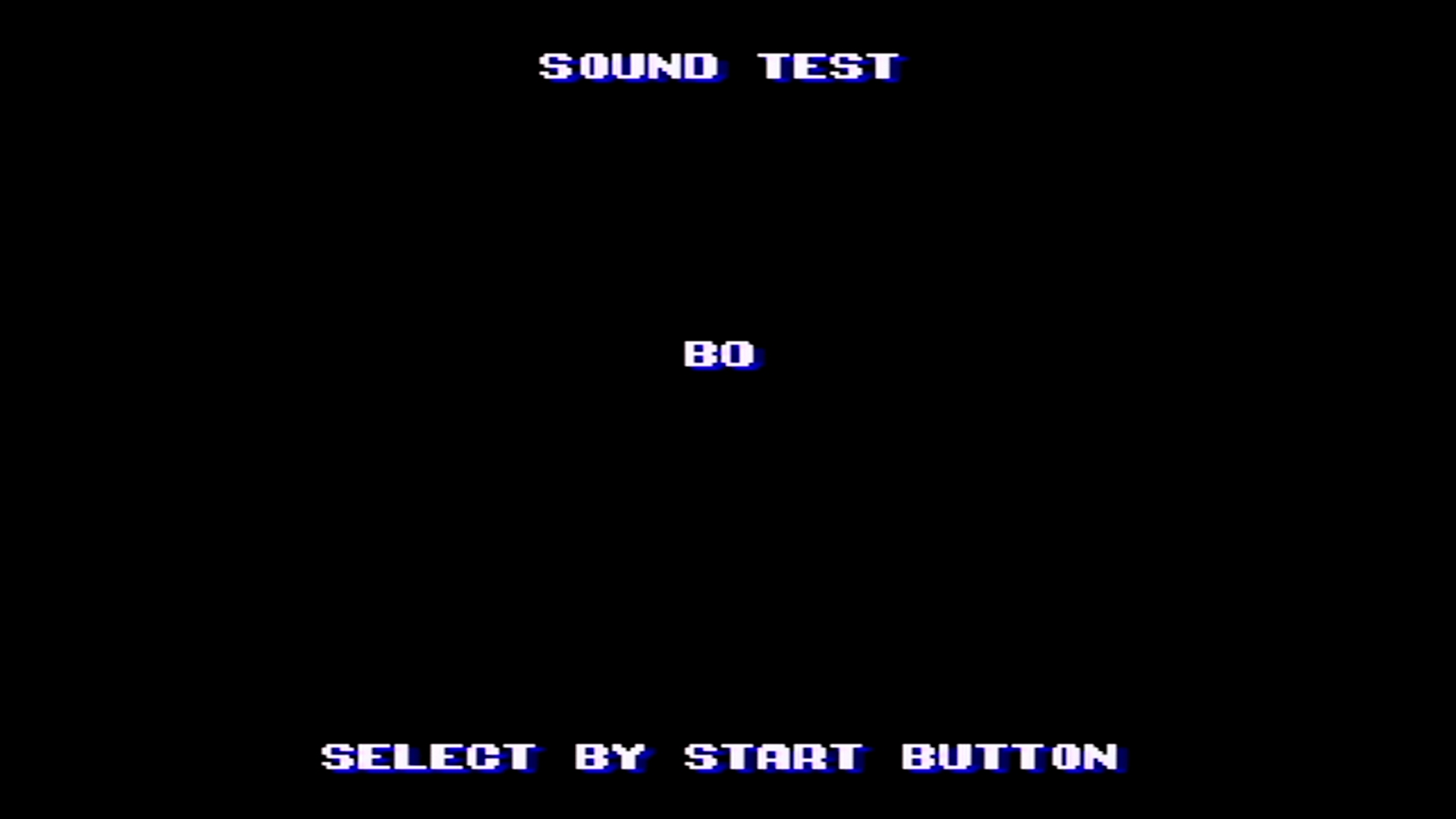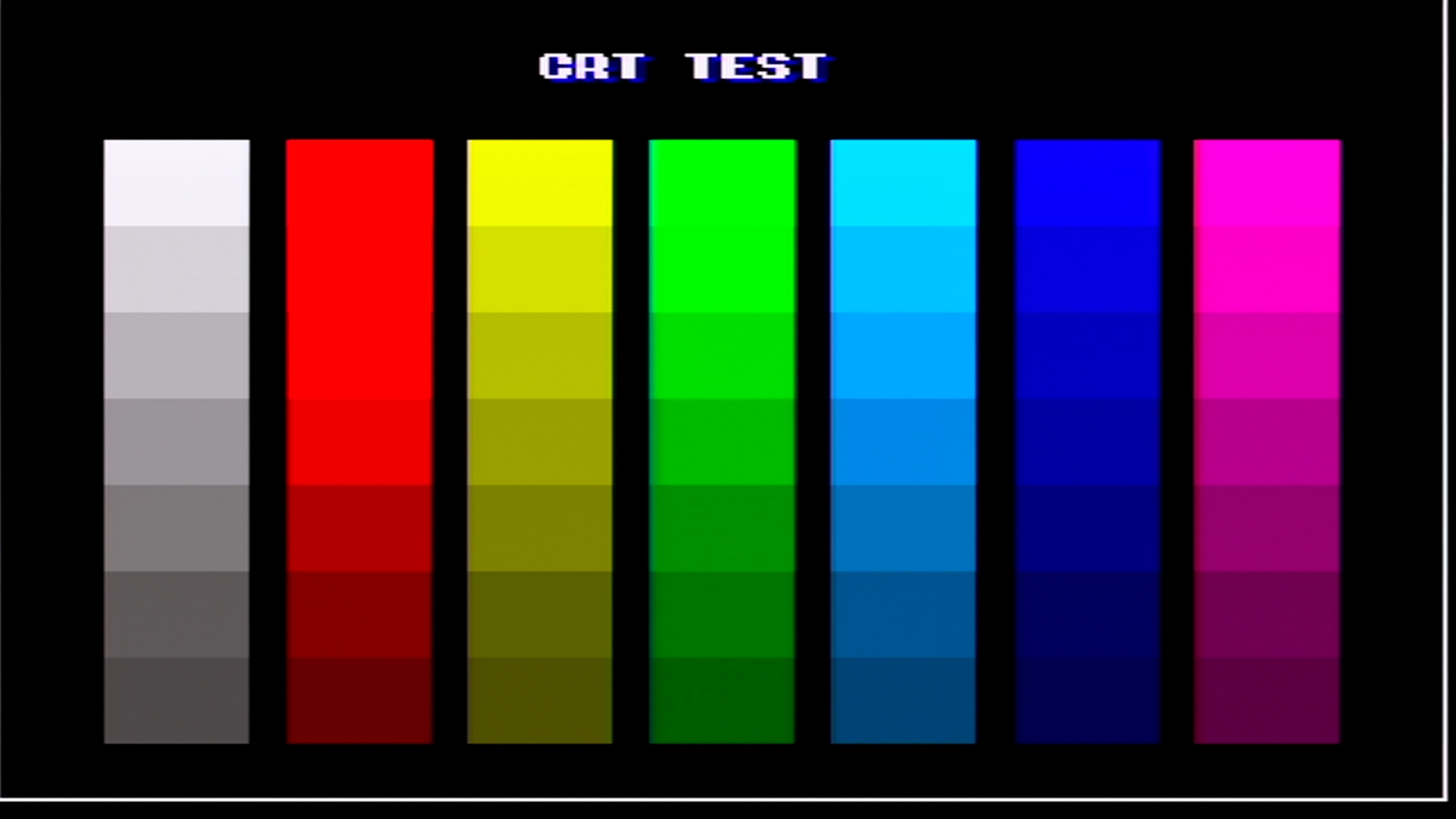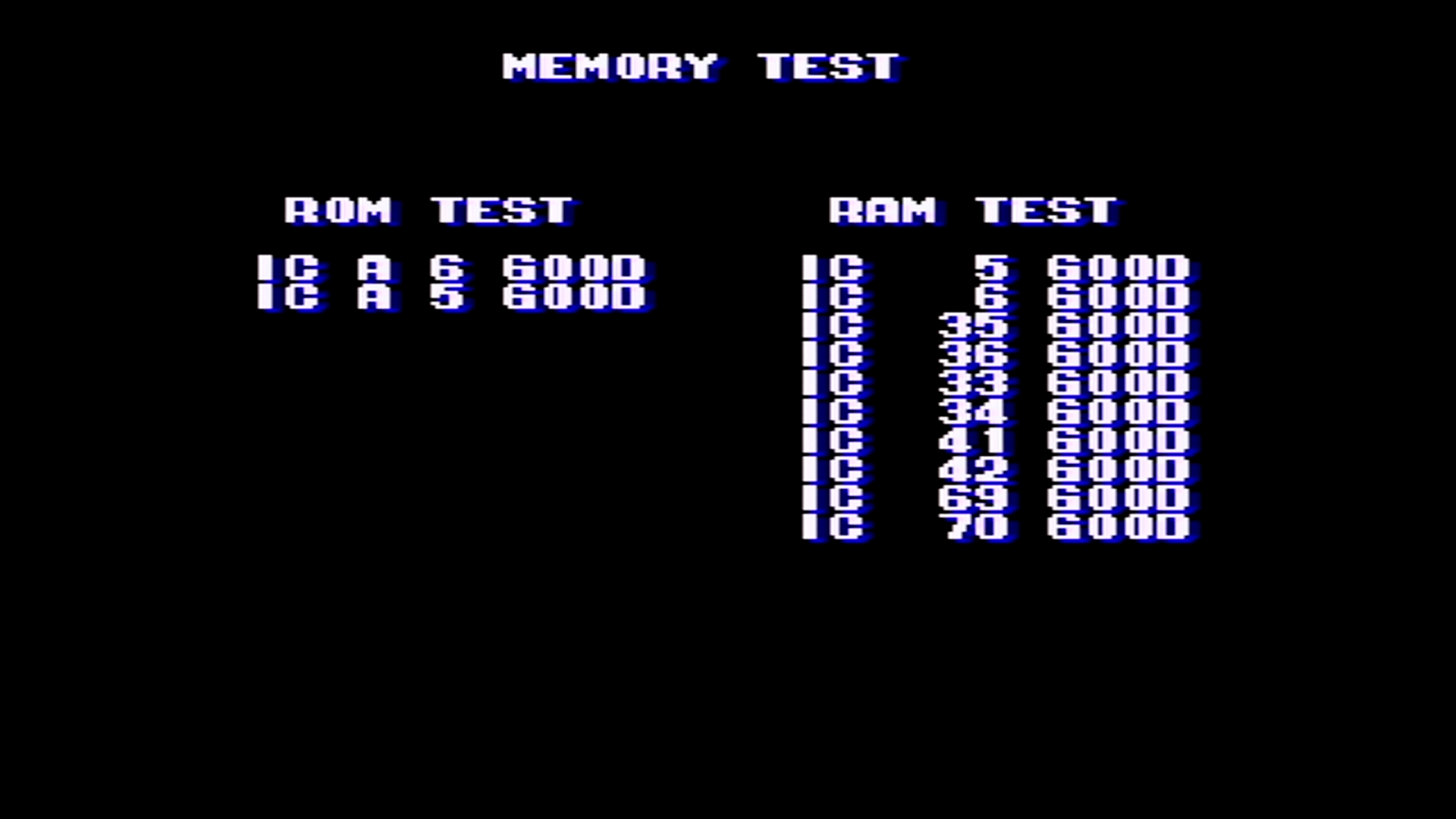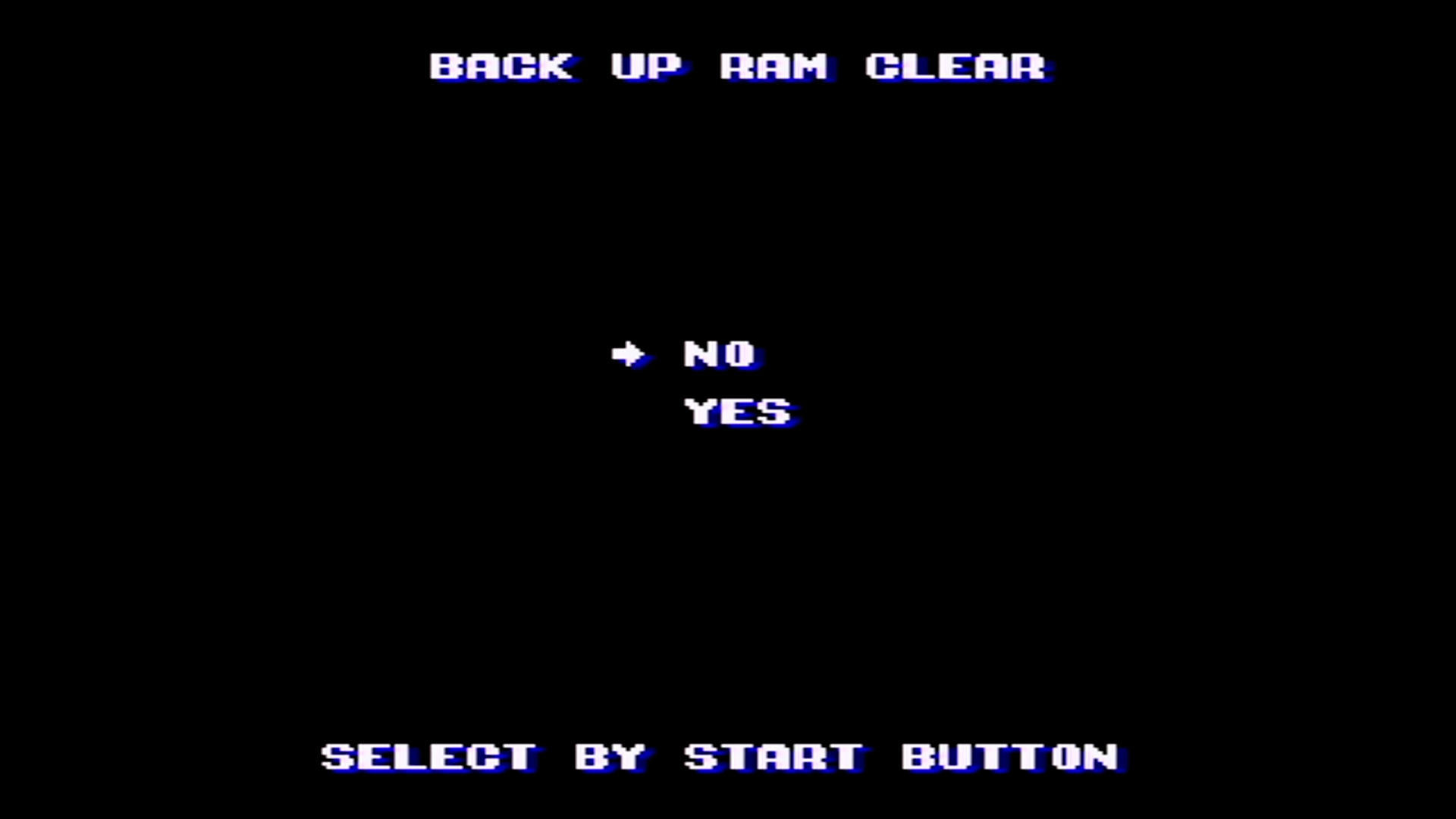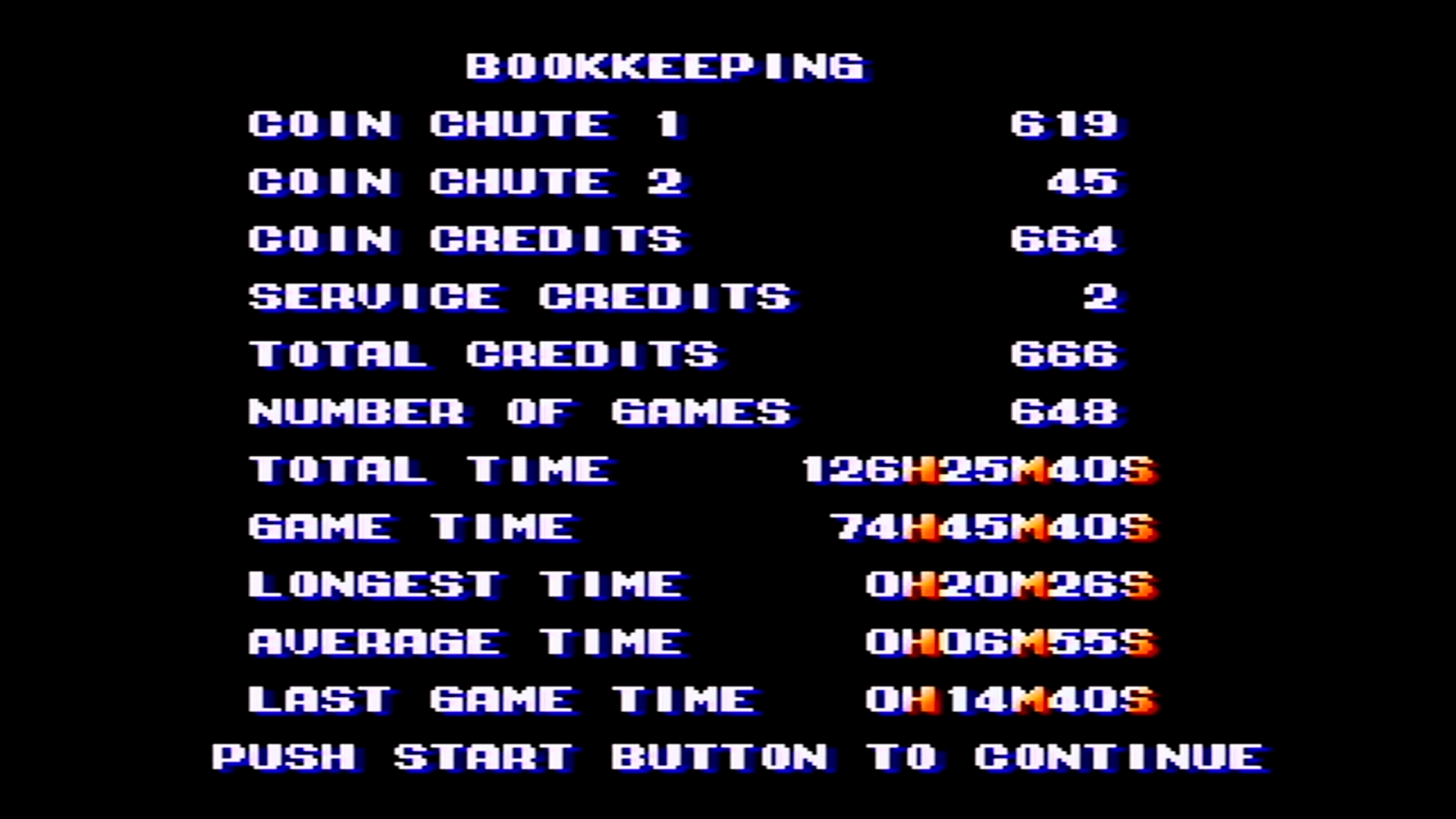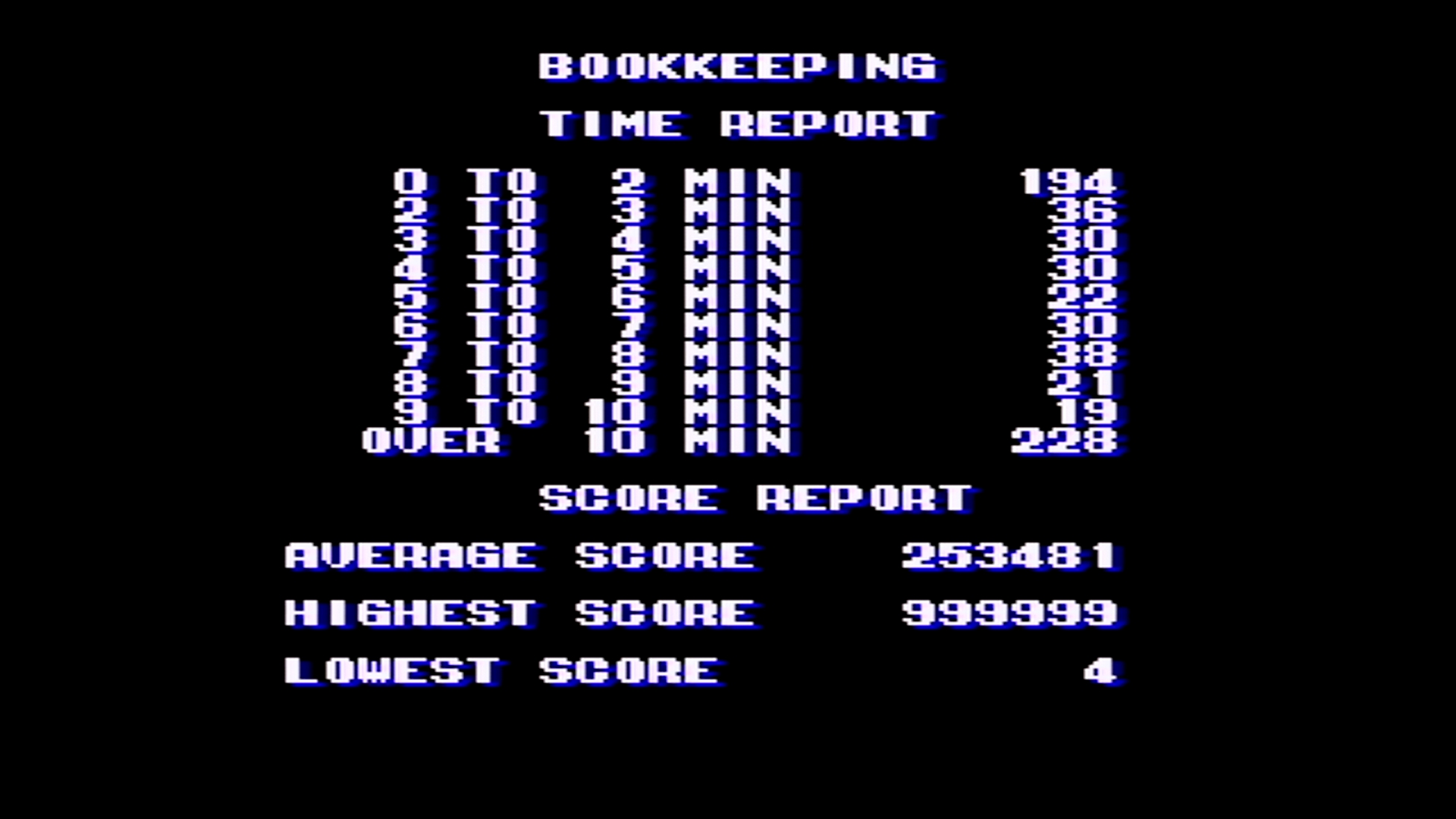 External Links
---
Back to top page
Last update of this page: 24/03/2023